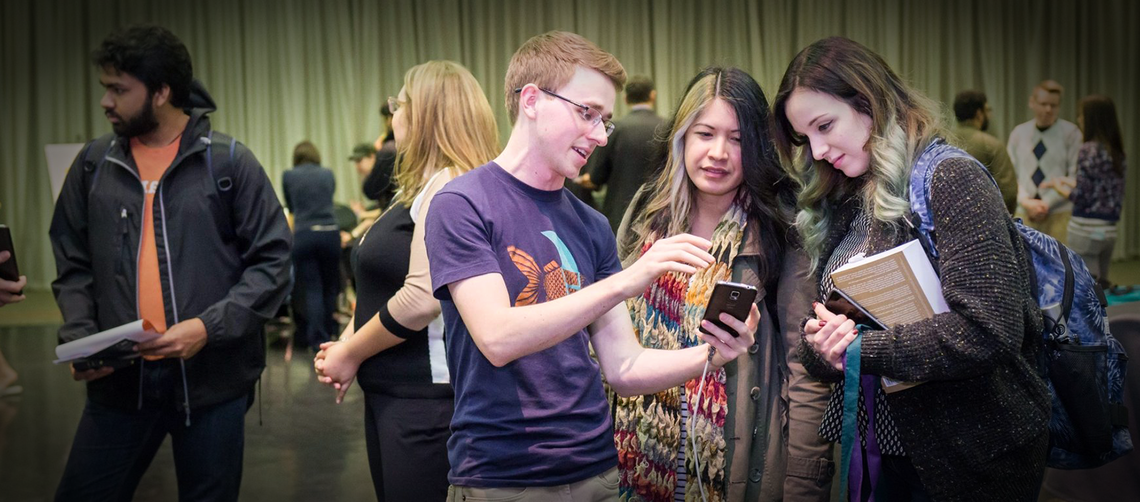 Students are encouraged to be involved with extracurricular activities on campus. An important part of the educational experience happens outside of the classroom.  UMBC offers a rich variety of organizations that offer students a chance to meet others with similar interests.  The UMBC Office of Student Life maintains a complete list of registered student organizations.  The following are some groups that may be of interest to both undergraduate and graduate CSEE majors:
Scientific Computing Society

This educational and scientific computing society delivers resources that advance computing as a science and a profession. ACM has special pricing and activities for student members. UMBC has an active student chapter for both graduate and undergraduate students. Join the mailing list for more information. contact: acm@umbc.edu

Engineering/Computing Technology Society

IEEE is a professional association advancing innovation and technological excellence.  IEEE and its members inspire a global community to innovate and develop  through its highly cited publications, conferences, technology standards, and professional and educational activities. IEEE is a trusted standard for engineering, computing and technology information. Join the UMBC Chapter Mailing List.

Engineering Society

The National Society of Black Engineers (NSBE), with more than 35,700 members, is one of the largest student-governed organizations in the country. Founded in 1975, NSBE now includes more than 394 College, Pre-College, and Technical Professional/Alumni chapters in the United States and abroad. NSBE's mission is "to increase the number of culturally responsible black engineers who excel academically, succeed professionally and positively impact the community."

Academic Honor Society

Phi Beta Kappa celebrates and advocates excellence in the liberal arts and sciences. Its campus chapters invite for induction the most outstanding students in the arts and sciences. The Society sponsors activities to advance these studies — the humanities, the social sciences, and the natural sciences — in higher education and in the global community. UMBC Chapter Information.

Engineering Honor Society
This is the only  honor society that represents all engineering fields. Students are  able to take advantage of scholarships, fellowships, and other financial assistance.  Other opportunities include leadership opportunities and training, community and campus service, and network and mentoring opportunities.  UMBC Chapter Information.

Fostering professional development among students in Computer Science and Computer Engineering. Join the CCM Mailing List.

UMBC Cyberdefense Team
The CyberDawgs is a group of UMBC undergraduate and graduate students sharing a common interest in computer and network security, with weekly meetings during the year exploring all aspects of cybersecurity and network defense. The CyberDawgs also field teams that compete in national and regional cybersecurity competitions and have won numerous events in recent years. More information about the team, its meeting calendar, and its mailing list can be found here.

The mission statement of the UMBC Game Developer's Club is to not only create great games but great artists, programmers and designers. The diverse group of students that the Game Developer's Club attracts work as a team to create fun and exciting video games.  Join the GDC Mailing List.

The UMBC Chess Club is advised by CEE Professor Alan Sherman.  It includes and welcomes players of all experience and ability levels. Experienced players will be happy to offer assistance.

Upsilon Pi Epsilon, which originated at Texas A&M University in 1967, is the only duly recognized honor society for the Computer Sciences. Today it is found in many colleges and universities in North America and overseas. The Gamma Chapter of Upsilon Pi Epsilon was chartered at UMBC in 1991. Each spring the names of prospective members are drawn from a list of junior and senior computer science students. Invitations are offered to those who meet the requirements. Students who accept are recognized for their excellence in their chosen field. Visit the Office of Undergraduate Student Services in rooms 203-206 of the ITE building for further information.

The Linux operating system is emphasized in many Computer Science and Computer Engineering classes. Peer support is available to assist those who want to run Linux on their personal computers. Join the LUG Mailing List.

This group stimulates women to achieve their full potential as engineers and leaders. It expands the positives of the professional engineering image as a force in improving the quality of life and demonstrates diversity.

This student group meets regularly during the school year to learn about system administration, which involves managing and maintaining an organization's computer systems, networks, and related technology infrastructure.

The Hack UMBC student group organizes and manages an annual hackathon that gives participants 24 hours to learn new skills, make friends, create wild idea, and share it with the world. Whether they wish to build a website, dabble with Photoshop, create a robotic arm, or develop a game, it's up to participants to decide what to learn!.