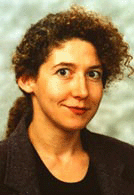 Position
Distinguished University Professor
Professor of Computer Science and Electrical Engineering
Office
324 Information Technology and Engineering (ITE) Building
Contact Information
University of Maryland, Baltimore County
1000 Hilltop Circle
Baltimore, MD 21250
email: adali -at- umbc -dot- edu
website: https://www.csee.umbc.edu/~adali
Education
Ph.D., Electrical and Computer Engineering, North Carolina State University, 1992
M.S., Electrical and Computer Engineering, North Carolina State University, 1988
B.S., Electrical and Electronics Engineering, Middle East Technical University, Ankara, Turkey, 1987
Research Areas
Dr. Adali's research focuses on statistical signal processing, machine learning, matrix and tensor factorizations, applications in multi-set and multi-modal data fusion with emphasis on medical image analysis and fusion.
Publications
In the News
Dr. Adali receives the IEEE Signal Processing Society Leo L. Beranek Meritorious Service Award.
Dr. Adali is elected Chair of the IEEE Brain Technical Community, and her term will start in 2023.
Dr. Adali receives the  Humboldt Research Award, April 2020.
Dr. Adali has been elected as VP for Technical Directions of the IEEE Signal Processing Society, May 2018, for the period January 1, 2019–January 1, 2022.
Dr. Adali delivered plenaries at CAMSAP 2017 and ICECTA 2017, and tutorials at MLSP 2017 and DeepLearn 2018 Summer School.
Dr. Adali has been named an Otto Mønsteds Professor for 2016.
Dr. Adali has been named a 2015 Fulbright Scholar.
Tulay Adali receives 2012-2013 USM Regents' Faculty Award for Scholarship/Research/Creative Activity.
Dr. Adali is named an IEEE Signal Processing Society Distinguished Lecturer. She will serve as a Distinguished Lecturer from January 1, 2012, until December 31, 2013.
Dr. Adali receives the 2011 IEEE Signal Processing Society Best Paper Award with the paper "Complex ICA using Nonlinear Functions" IEEE Trans. Signal Processing, Sep. 2008, Adali, Li, Novey, and Cardoso.
Dr. Adali and her group's research is mentioned in the March 2011 issue of the IEEE Spectrum: Learning to diagnose mental illnesses from fMRI data.