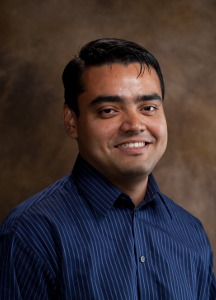 Position
Professor of Computer Science and Electrical Engineering
Office
362 Information Technology and Engineering (ITE) Building
Contact Information
University of Maryland, Baltimore County
1000 Hilltop Circle
Baltimore, MD 21250
phone: (410) 455-1437
email: nilanb@umbc.edu
website: www.csee.umbc.edu/~nilanb/
Education
Ph.D., Computer Science, University of Massachusetts, 2009
M.S., Computer Science, University of Massachusetts, 2007
B.Tech. (Hons), Computer Science, Indian Institute of Technology, 2004
Research Areas
Dr. Banerjee runs UMBC's Mobile, Pervasive, and Sensor System Lab.
He is broadly interested in embedded and distributed systems research for mobile, pervasive, and
sustainability based computing. His research spans several diverse areas such as renewable energy-driven
mobile and sensor systems and health diagnostic systems. He has also worked on problems related to mobile
system usability, mobile networking, and experimental mobile testbed design.
Publications
Recent News Items